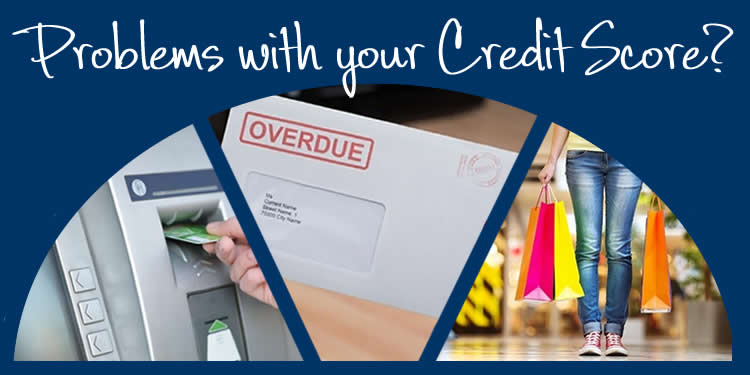 Debt problems are often linked with credit rating problems. And the UK credit information system is complicated.
Find out the facts
The important first step is to find out what is actually on your credit record. Don't just assume you have a good record or a bad record – check it!
You actually have three separate credit records not one. Each of the three main Credit Reference Agencies (CRAs): Experian, Equifax and TransUnion each have a different credit file for you.
Many lenders only report to one CRA. So none of the CRAs are "better", they just have different information. If you only look at one, you may be missing something important on one of the others.
You can now check your all credit records for free. Never ever pay for this! See The best free ways to check your credit score.
If someone tells you to use ClearScore or says Credit Karma is best, remember that those are reports that only cover one of the three CRAs. You need to check all three because they don't all have the same information.
What sort of information is on your credit record
There are three types of information on your credit record:
information about you
This included names, aliases, previous addresses, whether you are on the electoral roll etc.
It is essential this is accurate. It is also good if it doesn't change much! Try to always use the same job title and telephone number with all lenders.
Being on the electoral roll is viewed by lenders as a sign of stability.
CCJs, bankruptcy, IVAs, DROs
These are notified by the court or the Insolvency Practioner.
loans (including mortgages, car finance, payday loans), credit cards and catalogues, overdraft and some utility bills
These are notified by the lender so you see information for each debt – this includes what the balance is, your recent payments and various status codes.
Something wrong on your credit record?
If you think there is a mistake on your credit record, you need to get it corrected. This can take time, so tackle any problems when you hear of them, don't wait until you are about to apply for car finance or a mortgage.
For problems with a particular debt, it's best to talk to the creditor directly and not the CRA – they just report the information they are given:
If there are debts showing that you don't recognise:
if you have more than one unknown debt, you may have an identity theft problem.
When something is showing which is correct but you feel it is unfair, read Should you add a Notice of Correction to your record?  Lenders will then see your Notice but it may not make a difference to your chance of getting credit.
If your credit report says you have a Cifas marker on your file, this is an indication of fraud. See Is my name in a fraud database? for how to find out more about this and challenge it if it wrong.
Talk to the CRA about problems with your personal information – eg if they have an address showing that you have never lived at. If you are showing as being linked to an ex, see Splitting Up.
Lenders don't use the credit scores the CRAs calculate!
Credit reference agencies will tell you their own 'credit score' for you and may offer tips on how to improve your credit score.
Lenders don't use these scores!  Most lenders will "check your credit record" when you apply for a mortgage, loan, credit card or other sorts of credit. They will get detailed information from one or more of the CRAs, but then they have their own way of deciding what information on your record is important.
Some examples:
if you repay a debt with a default or a CCJ your credit score doesn't increase at all but many lenders will be more likely to lend to you as they can see you have sorted out problems;
having a payday loan that you have repaid on time doesn't harm your credit score, but most mortgage lenders will reject an application if you have had payday loans recently.
So the CRAs' "credit score"s often aren't much help to you – but a bad score is a sign that you are likely to have trouble with credit applications.
Improving your credit record
Don't be tempted by firms advertising to repair your credit record – they are either scams that don't work or you can do it yourself for nothing.
Don't take out expensive credit just to improve your credit score. Guarantor loans are an expensive way into a lot of trouble, not a good way to improve your credit record.
If you win an affordability complaint about expensive credit, you may get a refund or a balance reduced. You may also get missed payments or defaults deleted from your credit record. And sometimes the whole debt will be deleted for payday loans.
Most bad information drops off after 6 years
Most bad debt problems disappear from your credit record after six years:
Closed accounts which haven't been defaulted drop off 6 years after the account was closed.
Defaulted accounts drop off 6 years after the first default date. But the debt still exists and you could be taken to court for a CCJ for it.
Insolvency markers drop off after 6 years (but may sometimes be delayed for IVAs, see below.)
CCJs disappear after 6 years, paid or not. But if a CCJ is paid within 30 days, it drops off immediately.
Once a debt has dropped off, it will never re-appear.
So if you stop new problems from appearing on your credit record, as time passes your old problems will disappear.
Understanding defaults
A defaulted debt will disappear from your credit record after six years, regardless of whether it has been settled, partially settled, you are still making payments to it, or not paying anything to it at all.
This makes the default date a vital piece of information! Unfortunately there is a lot of bad information around about them.
Here is what you need to know:
Old debts
If you are currently making payments to an old debt, read Should I keep paying an old debt?
When you have debts that aren't showing on your credit file, read Do I have to pay a debt which isn't on my credit record?
If all has gone quiet about a debt that you haven't been paying for years, read No calls or letters about a debt for years?  and also When does a debt become statute barred?
Debt solutions and how they affect your credit record
Debt management plans and payment arrangements:
Settlement offers:
Insolvency:
All three sorts of personal insolvency have the same effect on your credit record, see  Bankruptcy, IVA, DRO and credit ratings for details.
You may think an IVA would be better than bankruptcy but it isn't. In fact the IVA marker can stay on your credit records for longer than bankruptcy.
It is a myth that going bankrupt destroys your credit forever.
The "clean up" procedures are much the same after all the different sorts of insolvency, but the timing varies (you can start much earlier with the clean up after bankruptcy or a DRO than with an IVA) so there is a separate article for each:
Mortgages
A good credit record is important for getting a good mortgage offer – but it isn't the only thing that matters!
You can spend a lot of time and effort trying to increase your credit score when that may not may any difference to your chance of getting a mortgage…
And your outstanding debts are also important for a mortgage application, even if they are no longer showing on your credit file! For more details, look at:
"It's all so complicated"
I agree! I think the whole credit record system should be simplified.
You should be able to get a single report across all three CRAs easily. And with no advertising for loans you may not want. It should be much simpler and faster to get errors corrected.
But until that happens, we all have to manage with the system as it is: get the facts, work out what is wrong, put in a complaint.