The repayments on many loans from bad credit lenders are too high to be manageable so people get deeper into debt trying to repay them.
If you have an unaffordable loan, you can complain and ask for interest to be removed from your balance. If the loan has been settled, you can ask for a refund of the interest you paid.
This article describes how to complain, with templates. It is a variation on the standard approach for payday loan refunds – this works better where the loans are very large, longer term and you only had 1 or 2 loans, possibly with top ups.
NB the complaints here are for "normal" unsecured loans and HP/PCP car finance. You can also use this approach for logbook loans. If you have a guarantor loan, read Refunds from guarantor loans as it's very different, and the guarantor may be able to complain as well.
Like payday loan refunds – but you can get a refund for just one loan
A lender should have checked when you applied that a loan is affordable for you. The regulator says "affordable" means:
you can make the repayments without hardship or having to borrow elsewhere.
This is the same test as for payday loan refunds. It applies to most forms of credit, including large, long term loans and logbook loans.
The payday loan refund template letter has got tens of thousands of people refunds. That letter emphasises the problems that repeat borrowing caused. Because payday loans are usually small, it's hard to get a refund if you only had one or two payday loans.
That sounds like bad news for these complaints about large loans, where you normally only have one loan plus possibly a top up or two…
But the good news is that because these loans are larger and longer-term, the lender should have made better checks before giving you the first loan!
So the letter here is for large loans.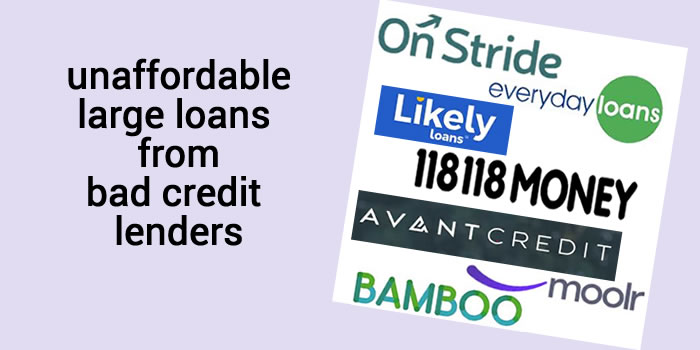 Making a complaint and asking for a refund
This is what you need to do:
Get a copy of your personal information from the lender and a copy of your credit record.
Put in a detailed complaint.
Consider lender's response.
Send the complaint to the Financial Ombudsman.
Send your complaint by email – here are the addresses
It's easiest if all communications are by email – free, instant and you have a copy with a date stamp to show the ombudsman. So here are the email addresses to use for the main bad credit, large loan and lenders:
Avant Credit  emailcomplaints@avantcredit.co.uk
Bamboo Loans complaints@bambooloans.com
CarCashPoint complaints@carcashpoint.com
Everyday Loans complaints@everyday-loans.co.uk
Likely Loans loans@likelyloans.com
LoanOnYourCar customerservice@loanonyourcar.com
Loans 2 Go (and their logbookloans.co.uk brand) ps@loans2go.co.uk
Mobile Money complaints@mobilemoney.co.uk
Moneybarn  complaints@moneybarn.com
Moolr admin@moolr.co.uk
Motor Kitty customercare@motorkitty.co.uk
MyJar (including Myjar Plus) generalcomplaints@myjar.com
Progressive Money complaints@progressivemoney.co.uk
Quick Loans customerscare@quickloans.co.uk
Ramsdens (logbook loans) customerservices@ramsdensforcash.co.uk
Satsuma onlinecustomercare@satsuma-loans.co.uk
Savvy info@savvy.co.uk 
Vanquis customer.relations@vanquisbank.co.uk
Varooma complaints@varooma.com
1st Stop customerservices@1ststop.co.uk
118 118 Money complaints@118118money.com
I have included a couple of payday lenders there – Myjar and Satsuma – because they often give very large loans. If you borrowed a lot from those lenders, use the main payday loan refund letter. But if you just had a few very big loans, use the letters on this page.
For guarantor loans, there is a different approach – see guarantor loan complaints by the borrower and guarantor loan complaints by the guarantor for details
Stage 1 – start the complaint – ask for personal information & get your credit record.
Get a copy of your current credit report saved immediately. You can get one from Credit Karma. Do this first thing as lenders may later change the information on there, so you want a full one saved to show the Ombudsman later if necessary.
Then email the lender and begin your complaint. The clock is then going and the lender has 8 weeks to respond to you. Put AFFORDABILITY COMPLAINT as the subject of your email.
You probably already know when you took out the loan and any top-ups. But it's good to ask the lender to send you a copy of all the personal information they have about you. This will give you a lot of information that can be useful later if you have to send the complaint to the ombudsman, so ask for it right at the beginning.
Sample email:
I am making a complaint to you about irresponsible lending. You should never have given me this unaffordable loan/these unaffordable loans.
I am asking you to refund the interest and any charges I paid, plus statutory interest, and to delete any negative information from my credit record.
[add extra information if you want from the stage 2 email – you don't have to do this]
[delete if you have repaid the loan] I would also like an affordable repayment plan to be put in place if I still owe a balance after this refund.
I am also making a Subject Access Request (SAR) for all the personal information you hold about me including, but not limited to, my applications, all credit and other affordability checks, a statement of account for my borrowing, and a record of all phone calls.  I understand you are not allowed to charge me for sending this information.
SARs are often sent out by post, make sure the lender has your new address if you have moved!
NB The template says you are asking for an affordable payment arrangement at the end of your complaint. If you want, you can ask for an affordable payment arrangement immediately unless you have a logbook loan, where you have to keep up the payments or you may lose your car.
While you are waiting for the lender's reply, assemble some other information that may help your case:
Also read Payday lender says I lied. That looks at the various reasons why your application may not have been accurate. People have won complaints where they lied because they were desperate but there are other reasons too, so think what (if any) may have applied to you.
Stage 2 (OPTIONAL) – add more details
This step is optional because your complaint has already started. Many lenders don't seem to think about what you write, they just do some internal check on your borrowing before sending you a response. So you may decide it's not worth spending time to send them more detailed information which they will ignore…
But here is what to do if you want to write more. It helps you to understand how good your case is and this is the sort of information it is useful to send to the Ombudsman.
When you have the SAR back from the lender, you can look for things that the lender knew but chose to ignore or didn't ask about. See How Subject Access Request information can help an affordability complaint which has details about what to look for.
Change the template below so it reflects what happened to you. Where I have given some options, you can delete them all and put in another one if that is more accurate.
No-one will include all these points!
It is better to write a short complaint summarising your problems than send pages telling the lender stuff they already know eg the lender doesn't need a list of your loans.
I would like to add the following information to the affordability complaint which I sent you on dd/mm/yy. I attach copies of my bank statements and credit report from the time I applied for this loan/these loans/these loans and top-ups.
You can see from my bank statements and credit record that I was unable to afford the loan repayments. [Delete if not relevant] [For example, I had to borrow from X payday lender and I defaulted on my Y debt.]
When I completed the loan application, I understated some of my expenses. This was because: [put what actually happened! this could be something like] I wasn't very aware of the amounts I was spending and completed the application hastily. OR I wanted to hide the fact I was spending a lot of money on gambling/cigarettes/alcohol. OR I was desperate and wanted to make my expenses sound low so you would give me the loan.
The FCA says that you should not accept an application where you ought reasonably to know the figures are not truthful, you can't rely solely on the information on an application, and that you should not accept information which is inconsistent with what you know.
This was a large loan, you knew I had poor credit and may have been in a difficult position so you should have tried to verify details. If you had done this, you would have rejected my application.
For example [delete or add to these as appropriate]:
You should have noticed that some figures were too low, for example: x,y,z
I didn't include amounts such as 

[delete/add as appropriate]

: car insurance, TV licence, opticians and dental costs, presents]
My bank statement would have shown that I was spending more than the application said. Either you saw my bank statement and ignored this

or

 you never asked for my bank statement to verify this.
During a telephone call, your agent talked me into agreeing that some figures should be lower in order to get my application accepted.
Your application didn't ask me for details of my other credit commitments and I didn't realise I had to include them.
I didn't include payday loans as credit commitments on my application as I thought that was for long term credit, but you could see I had several from my credit record.
You should have seen that the figures I put in for other credit commitments were inconsistent with my credit record.
When I applied for a second loan/a top-up [delete/add as appropriate]:
you ignored the evidence on the credit check that my position had got more difficult

OR

you didn't do a new credit check. If you had done this you would have seen the new credit I had taken out and the new problems showing on my credit record.
you didn't ask if my income or expenses had changed, and they had.
you didn't ask for bank statements so you could check if the new repayments were affordable.
I had said the first loan was to consolidate debt, but you should have seen that this hadn't happened.
you increased my interest rate, showing you realised I was in a more difficult position but you did not check whether I could actually afford the new repayments.
The lender replies – go to the Ombudsman if a poor offer
You should get a response from the lender within 8 weeks. If you don't, phone them up and ask when you will get it – a couple of days is worth waiting for but many responses are rejections, so don't wait weeks for one, go to the Ombudsman straight away.
Normally you can tell straight away if a response is acceptable or not good enough. If you aren't sure, ask what other people think in the Comments below this article.
Don't be put off by a rejection. Or if the lender saying it was your fault because your loan application wasn't accurate.
Lenders are obliged to do checks. For one small payday loan, these checks could have been brief. But for your large loan, the lender should have made sure they knew enough to be confident you could afford it, even if was your first loan from them. If they didn't, send your case to the Ombudsman.
It isn't usually worth trying to negotiate with these lenders, you are just wasting your time.
Send to Financial Ombudsman Service (FOS)
I suggest you use the "do it online"  option to send a complaint to the Ombudsman. It asks you for all the details they need.
The main part of your complaint can be a version of what you sent the lender in Stage two. Add any more details you want, including pointing out if you think there are errors in the lender's reply. Also attach:
the reply from the lender
Credit Karma credit record
bank statements starting 3 months before first loan.
Your complaint will first be looked at by an adjudicator. If either you or the lender rejects the adjudicator's decision, it will then be looked at by an Ombudsman.
"Is this really going to work?"
Here are some recent comments from people who have had refunds for this sort of loan. They show how some people get a good result directly and others have to go to the Ombudsman. Don't assume a rejection by the lender means you can't win!
Andy:  A flat out refusal from 118118 Money. One loan (£1,000) plus one top up (£2,500). Stating they had done nothing wrong, all payments made on time and paid top up loan off early. Saying I had a good income, verified by a bank statement and they had phone call recordings that I had made it clear the repayments were affordable.
Sent to FOS as I was in loads of debt at the time, loads of repeat pay day loans etc. Didn't hold out much hope but thought I may get a positive decision on the top up loan. Adjudicator held in my favour on both loans.  118118 accepted decision and offered circa £800. I had my loan statements and the total interest (plus 8% interest) was nearer £1,300. Adjudicator queried this for me with 118118. They agreed with my calculations. Adjudicator gave them 28 days to pay. It was in my bank the very same day.
Dan: I had a complaint upheld by the adjudicator at the Ombudsman against Avant Credit: Refund of all interest and 8%, £75 compensation, removal of loan from my credit file. Avant Credit agreed with the adjudicator.
Louise: Have had my response from Everyday Loans and complaint upheld. All interest been removed and I only have to pay back what they lent. Excellent outcome. Lent 5000 and have paid 3k so just 2k left to go. On my DMPthe balance was showing at 6.5k still left. Took them 5 weeks to uphold my complaint a lot of emails going back and forth.
Soph: Had 2 loans from Avant Credit. Rejected within 2 days, sent to FOS Jan, upheld in March,  Avant agreed with FOS and refund in the bank within 7 days.
Robert: I was successful in getting all interest wiped from my topped up loan with 118 118, didn't go to the FOS or anything.
"What about a bank loan?"
The affordability test is the same – could you repay the loan without getting deeper into debt elsewhere. But there are two problems with normal bank loans:
their interest rates are lower so it's harder to show that the smaller repayments are unaffordable; and
if your credit record was OK or even good, the bank wouldn't have been alerted to the fact you may have difficulty.
So it can be harder to win a case involving a typical bank loan, especially if your credit record was OK. But if you know the loan was unaffordable then give it a go and use the template letters here.
Need some help?
If you need help to complain, go to your local Citizens Advice, they will help for free.
Don't use a claims management company. They are expensive and often incompetent. And if you still owe money, then you may just get the interest removed so you owe less… which is great, but you don't want to have to pay a claims company in cash when you never had a cash refund to pay it from.
---
More Debt Camel articles: