If you have had problems with debt, you may have had a default added to your credit record. The date of this default matters, so you need to know it exactly on all three credit reference agencies, see How to check your credit record for details. 
The rule is: the debt and the default will then be deleted from your credit record six years later after the first default. For example, if you have old defaults, with dates in 2012, they will be dropping off your records in 2018. After that, your credit score will improve!
Because of the 6 year rule, the older a default date is the better, as it will disappear sooner. So what is "the right default date" and what can you to say to a creditor to get it corrected if it is wrong?
When should a default be added to a credit record?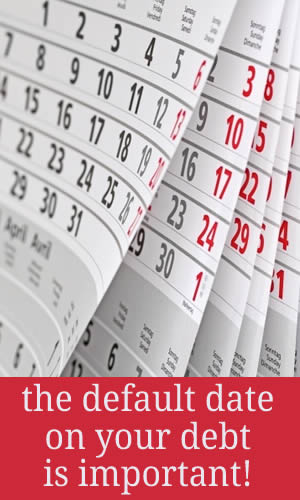 The Information Commissioner's Office (ICO) says :
"As a general guide, [a default may be recorded] when you are 3 months in arrears, and normally by the time you are 6 months in arrears.
There are exceptions to this which may result in a default being recorded at a later stage, such as secured or long term loans e.g. mortgages, or if the product operates in a more flexible way e.g. current accounts, student loans, home credit.
So those are the main guidelines, but let's look at specific situations.
Debt management plans and arrangements to pay
For situations where you miss a few payments, or make reduced payments, or enter a Debt Management Plan, the "3-6 months" guidance above applies. If your arrears have already reached  three months, then the lender can register a default, even if an arrangement to pay is then agreed or you pay the debt in full.
Arrears will usually continue to mount up when you have an arrangement to pay or a DMP, so later a default can be added even if you are making all the payments.
At the start of a DMP or an arrangement to pay you may not want a default – they do harm your credit score! But if you aren't going to repay the debt in a few years, having a default is usually better because the your credit score will clear up sooner. With no default date added, the record will stay until 6 years from the date the debt is finally settled which could be a long while.
So in some cases it can be better to have a default early in a debt management plan rather than not have one – see this article on DMPs and Credit Ratings for some examples.
Overdrafts are more complicated
For most loans and credit cards the ICO 3-6 month provisions apply – the common exception is current accounts. There is no regular or minimum monthly payment to an overdraft, so the concept of "3-6 months in arrears" doesn't really exist. You may have abandoned an account with an overdraft and switched to using a different account, but unless you told the bank this and asked for an arrangement to repay it (for example in a debt management plan) the bank may not have been able to tell. So default dates for overdrafts can often be later than you would think.
Debt sold to a debt collector
If a debt is sold to a debt collector, then the new creditor should use the same default date as the original creditor did. If the original creditor didn't add a default, you can ask the original creditor to add one, then the debt collector will have to use that.
If the original creditor didn't report to a credit reference agency at all (this is unusual) then the debt collector should apply the same ICO rule that the original creditor would have used.
CCJs
If you have had a CCJ registered for that debt, the default date must be earlier than the date of the CCJ.
Insolvency
If you have gone bankrupt, had an IVA or Debt Relief Order(DRO) then the default dates of all unsecured debts included in your insolvency must not be later than the date of entering the insolvency – this is covered in detail in these articles:
Mortgages
Mortgages and other secured loans are an exception to the general "3-6 months in arrears" guidelines. In 2007 the ICO issued technical guidance on Filing Defaults With Credit Reference Agencies, see paragraph 14 for this specific area.  A mortgage lender has much more discretion on when to record a default, but it should generally not be later than six months after any repossession. NB If you  went bankrupt before the repossession, see the link above on repairing your credit record after bankruptcy.
Only the first default date for a debt matters
There can only be one default date for a debt. Your credit file will normally show a default marker each month afterwards until the debt is settled – but here it is the first default date that matters. The whole debt will disappear six years after the first default.
What can you do if a default date looks wrong?
For some examples of how these principles have been applied in practice, see  these case studies that the Financial Ombudsman has reported. They should give you a better feel for whether you can get your credit record changed.
To correct a problem with a default on your credit file you should write / email the lender (or the debt collection agency if your debt has been sold by the original lender), putting COMPLAINT as the subject, explaining why you think it is wrong.
Don't just copy out the guidance above, add the facts and dates which relate to your specific case. Some common examples would be:
"I first missed payments to this debt in early 2012 and set up an arrangement to pay in June 2012",
"I never received the December 2009 bill as I had moved house",
"I only made token payments from 2011" etc.
Then say what you think should happen to your credit record, do you want it deleted, added, or changed to be earlier. For example:
"Please delete the default date because I was never three months in arrears according to the ICO rules."
"You never contacted me to say the account was in arrears so it is unreasonable to have added a default. I had later accounts with you so you knew my contact details."
"I would like you to add a default date in May 2012 in accordance with the ICO rules."
"According to the ICO rules the default date of September 2014 is too late and I would like you to change it to May 2011."
"[name of original lender] added a default in 2009, this has since dropped off my credit record. You should be using that same date, so please correct it."
It's not worth complaining to the credit reference agency. They are only recording what the lender has told them.
If you haven't had your complaint to the lender resolved within 8 weeks, put in a complaint to the Information Commissioner or (especially if you are complaining about the default date on a secured loan after bankruptcy), put in a complaint to the Financial Ombudsman.
Will doing this "reset the clock"?
If you haven't made any payments to a debt for years and you are hoping it will get to the 6 years point so the debt is statute barred, you shouldn't contact the lender at all.  If you contact them to ask them to change the date then this will acknowledge the debt and "reset the clock". See Questions about Statute barred debt for more information.
But also read No calls all letters about a debt for years which looks at this situation – it is very common for you to be contacted about an old debt just before it goes statute barred. If this is more than 6 months away, it's probably not worth hoping this will happen.
If the debt is already statute barred (are you absolutely sure? read the above article) then you can ask for the default date to be changed as once a debt is statute barred it will always remain barred.
Sometimes a default is good news!
Defaults sound bad, right? So getting one removed must be good? This is probably the most confusing thing of all, but No!
It can often be better to have a default on your credit record.  If there is a default against a debt, then the whole debt will "drop off" your file after six years, even if you haven't repaid the debt. With no default, the record will not go away until six years after it is marked as settled/satisfied in some way.
So don't rush into trying to get a default removed… and never try to get a default date changed to a later one because it will wreck your credit record for longer!
But you can't stop paying debts that have dropped off
Even though it's good for your credit score when defaults disappear, the debts still legally exist. See Do I have to pay a debt that isn't on my credit record? for more details.
Don't get confused with "Default Notices"
This article has looked at when a creditor marks your debt as "in default" with one of the credit reference agencies (Experian, Equifax, Call Credit). The word "default" is also used in the term "Default Notice". A lender has to send you a Default Notice before taking you to court over an unpaid debt. This has nothing to do with informing a credit reference agency that your debt is in default – your credit file may be marked as in default even if the creditor has no intention of taking court action.
If you have read things like the lender has to send you a Default Notice 14 days before starting court action and if you pay the debt in full within this time the lender can't go to court these aren't referring to credit records at all.  Anywhere you read the phrase Default Notice you are probably looking at information about CCJs, not credit files. If you would like more information about CCJs, have a look at Debt Camel's articles about them.
---
More Debt Camel articles: