My articles on How to ask for refunds  looks at how to make affordability complaints about different sorts of debt – overdafts, loans, credit cards, catalogues, even car finance.  It also applies if you have repaid the credit already or if you are still repaying a balance.
But what do you do about this month's repayments if you can't manage them? You can't put in a complaint and then carry on borrowing!
High cost credit keeps you trapped, paying interest every month to the lenders and not improving your situation at all. It may feel that they are keeping you going and that you can't manage without them, but you need to cut through this and break free. When in a hole, stop digging!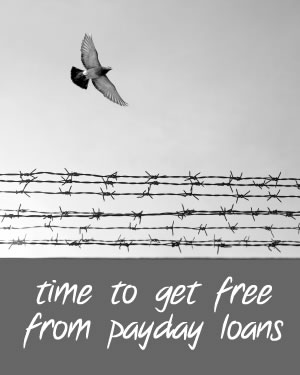 Look at a debt management plan
A debt management plan (DMP) is often the best option.
In debt management, your creditors are asked to freeze interest and accept a lower payment each month – depending on your situation this can even be a "token" £1 a month.
A good way to set up a DMP is to contact StepChange.
StepChange will look at your full situation and will be able to say whether a DMP is suitable and what your other possible options could be.
In a DMP you make a single payment each month to StepChange, who then divide this between your creditors. They don't charge you a fee – all your money goes towards your debts.
Debt management can be a long-term debt solution, but it is often used as a temporary measure if you think your situation may change soon.
You want a stable situation where you don't have to borrow any more
When your situation is stable so you don't have to borrow any more, the pressure is off you and you can look at your options.
You may be able to make affordability complaints. Refunds from these may let you start clearing the debts in your DMP a lot faster!
But because you are in a DMP, you can take your time with these complaints and you won't feel under pressure to grab a very poor offer from a lender, instead you could send it to the Financial Ombudsman who is agreeing with the customer on many of the affordability complaints.
So after these complaints have finished, you may be in a much better position and you may have different debt options. You may even be able to end your DMP and go back to repaying your debts.
What order do you do this in?
Going to StepChange isn't instead of trying to get refunds back from lenders, it's just the first step so the next few months are more under control.
So if you are wondering what you should do first, I suggest the following order:
talk to StepChange – let's assume they think a DMP is a suitable option.
cancel any Direct Debits, Standing Orders and CPAs with your bank that make payments to your creditors. NB you can't do this with car finance – that has to be paid in full and won't go into your DMP.
StepChange will tell your creditors about your DMP, you don't have to.
start thinking about affordability complaints to the lenders. This doesn't have to be immediate – you may prefer to wait until your DMP has "settled down" for a few months.
A few Dos and Don'ts
DO tell StepChange about all your debts including your overdraft. Even if it's just a couple of high-cost loans that are your big problem, this is the point to get all your debts under control.
DO read the comments at the bottom of the refund articles – it's good to hear how other people's claims are going.
DON'T worry about contacts from your creditors. Just tell them StepChange will be handling your DMP – they really do stop calling.
DON'T use a claims firm to ask for refunds. You really can do a better job than they can! Also if the refund you get wipes out your debt, that's great… but it would then leave you owing the claims firm their large fees :(
More Debt Camel articles: