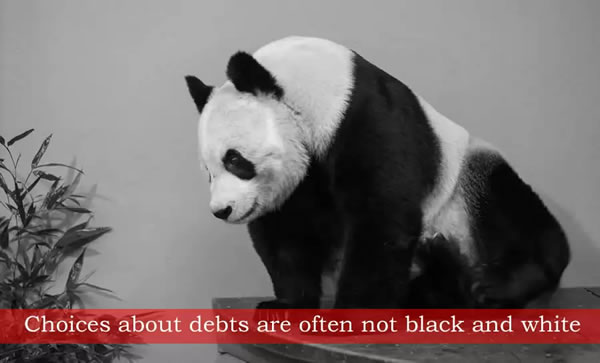 The Hard Way or the Easy Way?
It's often hard to choose the right way out of debt for you and your family.  Obviously you want the easier way if both roads get to the same place at the same time! But you are having to make choices about your debts now. You can't be sure what is going to happen over the next few years or how your creditors will react.
Look at some of the possible trade-offs:
if the easy way will take 8 years and the hard way will take 3, you might prefer to grit your teeth and get it over with;
the easy way may not work,  but the hard way is more certain;
the hard way will give you a better credit record than the easy way;
the quick way may make it harder to get a mortgage. You really want to buy a house, but can't see how you can ever save a deposit, so how much does this matter?
The big choices
Often there is no 'right' answer. The best debt solution for you and your family might not be the choice that someone else would make. The following pages cover some of the most difficult debt dilemmas:
If you haven't yet reclaimed PPI, think about choosing a temporary DMP whilst you do so, as if you get a payout this may transform your options.
It's important to think ahead to what could happen in the next few years: more children/children leaving home? job insecurity/likely promotion? buying a house/retiring? interest rates going up? meeting a new partner? This may feel a lot like guesswork, but it's better than just assuming your current situation will remain the same.
Still unsure?
Take your time and don't be pressurised into a wrong decision by worries about defaults, threatening  letters (they may be bluffing), or getting a CCJ (contact National Debtline about how to respond).
Talk to other people, possibly debt advisors or anonymously on internet forums – see Good places to get help and advice.
If the call is very finally balanced and you keep changing your mind, in the end you have to make a decision. There is no point in delaying for months or years if nothing is changing or your situation is getting worse.