If you are asking for a payday loan refund, the question of your credit record will probably come up. You can get a payday loan refund whatever your credit record was like – but this doesn't mean that credit scores are irrelevant! This can be a complicated area – a lender may dismiss your complaint mentioning your credit score and you may be uncertain what to do next. This article looks at typical questions people ask.
---
"Can a lender give a loan if you have a bad score?"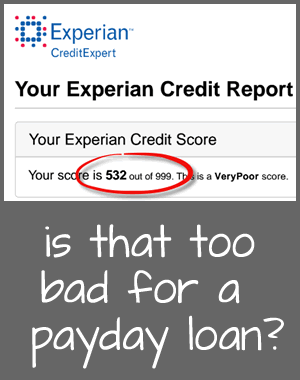 There isn't a simple test such as "more than 650 is acceptable".  A lender wouldn't be expected to reject an application if you had defaults four years before but no recent problems, or you just had a couple of late payments the year before. Payday loans aren't aimed at people with perfect credit records.
But they should have paid attention to recent problems, especially if you were borrowing a large amount in relation to your income. And if you carried on borrowing, then the lender should have looked at details such as the amount of debt you already had.
"The lender says they didn't have to credit check me – is this right?"
Lenders used to be regulated by the OFT and only had to undertake "proportionate" checks on affordability before making a loan. As payday loans are quite low value, there was no legal obligation to check credit records. Many lenders used to do credit checks, others such as Wageday Advance didn't.
You can still succeed with an affordability complaint even if the lender didn't credit check you. You are complaining that you were given an unaffordable loan, not that the lender didn't make the correct legal checks.
Checking your credit record is only one way that a lender could have realised that you were in difficulty and dependent or regular borrowing. The lender still had to take notice of the other information that it had, so if your history of borrowing from that lender showed you were likely to be dependent on these loans that is an indication of unaffordability.
See this Ombudsman decision for an example of a complaint being upheld in these circumstances. (NB every case is individual but it helps to see what has happened to other people.)
"How do I send the FOS my credit record?"
Not everyone is asked to give the Ombudsman a copy of their credit record but it is a common request. And if your credit record was bad, you should send a report even if you aren't asked for one!
The simple way is to get a Noddle credit report. This is free and you can download it as a pdf to email to your adjudicator. If you are having trouble doing this, you can ask for a £2 credit report to be posted to you and post this to the FOS. Tell the adjudicator if you are doing this as it will take a few days.
If you have been asked for your credit report in 2013 (say), it usually isn't possible to do this. (The exception is where you have been paying for a months credit report since that date, then it may be possible to get hold of an "old" report if you ask the CRA.) But if you send your current report, that will show six years of data which is normally good enough.
If your borrowing was a long while ago, say 2011, defaults and CCJs will have dropped off your record after six years.  You  may have other evidence (court papers, emails, letters from lenders or a debt management company) that mention defaults or CCJs or insolvency. Show your adjudicator these and point out they would have been showing on your credit record back in 2011.
"Why do my payday loans show on Noddle not Clear Score?"
There are three main Credit Reference Agencies (CRAs): Experian, Equifax and Call Credit. Lenders can choose which CRAs they want to report to – some lenders report to one, some to two, some to all three.
Find out how to check your records with each of the three CRAs here. Noddle is the free version of Call Credit. Clear Score is the free version of Equifax. If a lot seems to be "missing" from one credit report, get your credit reports from the other CRAs as well.
"I'm worried because my credit record is bad"
Some people worry that the ombudsman may decide they were bad with money so it's their fault they took the payday loans. Actually the reasoning works the other way! If you have defaults or arrangements to pay showing on your credit record this SUPPORTS the fact that you couldn't afford the payday loans. If your lender saw credit records with a lot of problems this should have been a big warning sign not to lend.
This doesn't mean you are definitely going to win your complaint, but it helps. The ombudsman has to decide if you afford the loans and also should the payday lender have realised this? A poor credit record helps prove the first of these. If your lender credit checked you and saw a bad credit record that helps prove the second.
"I'm worried because my credit record is good!"
You can win a payday loan affordability complete with a perfect credit record. You may have borrowed because of some urgent need and then couldn't afford to repay it. But you could have been too scared to default, so you kept repaying and reborrowing, sometimes for years.
Repeated borrowing suggests the lending was unaffordable and you have become dependent on the loans, regardless of whether you have a good credit record or if the income and expenditure you supplied suggest the loans were manageable.
"Lender says my credit score was good but it wasn't"
Some background info on credit scores may help:
to know what the lender should have seen, ask which CRA the lender checked your details on. Then get a copy of your credit record from that CRA and see what it says. For example if your lender only checked Experian and you had a default which only shows on Call Credit, the lender would not have seen this default;
bankruptcy, IVAs, DROs and CCJs would have shown on all three CRAs. If you had any of these major problems the lender should definitely have seen it;
lenders don't use the same "credit score" that is reported to you. A lender who says your Experian credit score was 700-750 paid Experian to calculate a score for them but this isn't the same calculation Experian would have reported to you.
That last point is a complication but if you know your credit score from a CRA would have been very poor, the lender's score should not have been good! They won't be exactly the same but they shouldn't be a long way out.
Many people have commented here that Lending Stream is quoting an absurdly high credit score for them. If this happens to you:
look at what shows up before the date you borrowed on the CRA the lender uses – late payments, arrangement to pay, debt management, defaults, CCJs etc;
reply to the lender asking them to look again and mentioning the problems they should have seen on your credit record. Sometimes the lender will change their mind;
if the lender doesn't change their mind, take the complaint to the Financial Ombudsman and explain to the adjudicator why the lender's score cannot be right.
"How much will my credit score go up if payday loans are deleted?"
A common award when a complaint is upheld is for the unaffordable loans to be deleted from your credit record. For some people this is the most important thing they want.
It's not possible to say how much your credit record will improve as that depends on a lot of factors:
deleting payday loans which had defaults or late payments will definitely have a positive effect;
if there are a lot of other big problems on your credit file, the positive effect may only be very small, but if the deleted loans were the only defaults, the effect should be large;
deleting payday loans which you paid on time, won't normally make much difference to your score;
if you have very little on your credit record after the loans are deleted, it is even possible your credit score may drop! That would be quite unusual;
every future lender does their own scoring. Some lenders may care about you having used payday loans so getting them deleted will help. Other lenders don't mind about payday loans. Payday loans make it harder to get a mortgage but many lenders don't mind if you have payday loans older than a year providing that they were repaid on time.
Any other questions?
If you have any other payday loan / credit record queries, ask them in the Comments below! And don't forget to look at the comments below the main payday refund article – there you can see how other people's affordability complaints are going.
---
More Debt Camel articles: