UPDATE: On 2 November the FCA said it WILL be proposing further extensions for other types of consumer credit – that if you haven't had a break so far, you can get a 6 month break and if you have had a 3 months break since July, you can have another 3 months.
---
On 31 October, after the Prime Minister had announced a month national lockdown, the FCA issued a statement:
we will propose that mortgage borrowers who have not yet had a payment deferral can request one. This could last for up to 6 months. Under our proposals borrowers who already have a payment deferral for a period of less than 6 months would be able to extend that deferral. This would mean customers would be able to have a payment deferral for a maximum of 6 months.
But are these extra mortgage payment breaks enough? How many people will they actually help?
The FCA ended by saying:
We are also considering the implications of this approach for consumer credit. Given the variety of different products in this sector, we are working quickly with industry to determine whether a similar approach should be adopted for consumer credit products. 
I think the FCA should extend payment breaks for all forms of consumer credit, including car finance, credit cards, loans and catalogues.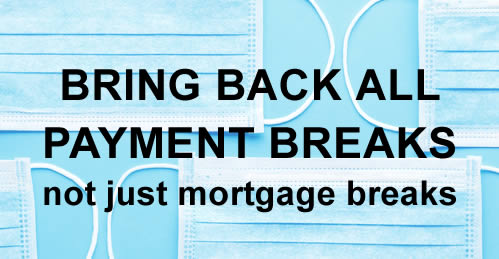 Why the FCA has to act now
The worst possible timing to end the old scheme
The previous payment break scheme allowed people to take a 3 month payment break for mortgages and almost all types of consumer credit including car finance, loans, credit card and catalogues if their household finances were affected by Coronavirus. And then to take a second 3 month break if they needed it.
That scheme ended on 31 October. That has turned out to be the worst possible timing, with the Prime Minister announcing a national lockdown the same day the old scheme ended.
FCA had previously said:
The guidance will be kept under review and if circumstances change significantly, consideration will be given to any further measures that may be needed to support consumers during the ongoing pandemic.
So it seemed inevitable that something would have to be done to help people with debts they could not pay.
A "tailored approach" – no longer practical
Before this latest announcement, the FCA had intended that the payments breaks would be replaced by lenders providing their customers with "tailored support" and "forbearance" depending on the need of the individual.
I have looked at this in What help with debts & bills can you get if your payment breaks have ended?   A couple of examples:
a mortgage lender could agree to change it to interest only for a period;
a credit card lender could agree to accept no payment and freeze interest for a customer who had rent arrears.
Many preferred the simple approach of payment breaks, with no element of "lender lottery". For customers with mental health problems, the thought of having to phone several lenders and explain their situation in detail is daunting.
The problems with this tailored approach have just got a lot worse because the new lockdown will affect many more people.
Will lenders really be able to talk individually to all their customers that may now need help and work out what support they need? To agree a lower repayment amount a lender will need to go through a client's income and expenditure. It is hard to see how this could be done properly in less than 30 minutes on the phone.
Extending mortgage breaks is not enough
This proposal to extend mortgage payments breaks will be out for consultation on 2 November:
someone who hasn't had a mortgage break at all will be able to ask for a 6-month break;
someone who had one three month mortgage break will be able to ask for another 3-month break.
If it is agreed, all mortgage lenders will have to provide these breaks to customers with coronavirus problems unless they have already taken a 6 month payment break. It won't be up to the lender to choose who should have one.
It is expected that the new breaks will work in the same way as the old ones. They won't show as missed payments or defaults on credit records so people's credit scores will be protected, although they may make it harder to get credit in future.
For people that haven't already taken 6 months of mortgage payment breaks this will be a real help.
But there were 4.4 million payment breaks for all products. 2.5 million of these were mortgage payment breaks. That is more than half… many people chose to take a mortgage break and carried on paying their other debts:
some people did this because the mortgage breaks were offered first in March, before breaks on other types of credit were available;
others may have decided that they would rather clear their higher interest debt.
These figures suggest that many people with mortgages will already have taken a 6 months break, so they won't be helped at all by this proposed extension.
Payment breaks needed for all consumer credit
If the payment break extension is applied to car finance, credit cards, loans, catalogues and all the other sorts of consumer credit, it will be a much more significant help.
People who had previously managed with only taking a payment break on one or two debts, would be able to get breaks on their other debts. This may allow some people to manage to pay the mortgage or car finance in full, by having a break on credit cards and loans.
It won't help everyone – some borrowers will have taken payment breaks on all their debts. These people will have to rely on their lenders giving them tailored support. But an across the board extension would be a real help for many.
And the 27 million current accounts who had a £500 interest-free buffer applied to their arranged overdraft in the first lockdown also need more help now. 8 million customers have seen their bank increase their overdraft fees this year.
More government help is also necessary
Millions of renters will have wondered why people with mortgages get special treatment, with the news about more payment breaks being rushing out immediately after the lockdown announcement. Several weeks ago Citizens Advice called for a national programme of government-backed grants and loans for tenants struggling to pay their rent because of the pandemic – that seems more important than ever now.
And the DWP needs to plug the big holes in the benefits safety net including the massive problems with Support for Mortgage Interest, the benefit cap that leaves people with too little to live on and the two child policy that is hitting families who never expected to claim benefits in their lives.
---