If you have been given a personal loan by a guarantor lender you can ask for interest to be removed from this loan if:
you can't afford the repayments without hardship or borrowing more money, AND
Amigo or any other lender would have realised this before they gave you the loan if they had checked properly.
If you are the guarantor for someone else's loan, read Complaining if you are a guarantor not this article, as the points you can make are rather different.
Amigo and the other guarantor lenders should have made sure a loan was affordable before giving you the money. The regulator's definition of affordable is that you have to be able to repay it on time without it leaving you so short of money that you have to borrow more or get behind with bills.
This article looks at how to complain to the lender and has a template letter if you are the borrower. You can make this complaint:
if you are still paying the loan,
if you have stopped and your guarantor is having to pay, or
if the loan has been repaid (but probably not if it was taken out more than 6 years ago.)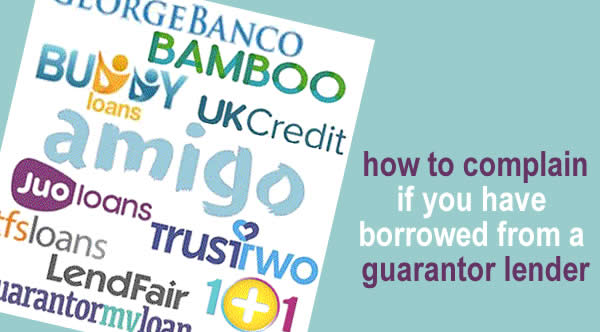 What should the lender have checked on
Before agreeing to lend, the lender should have checked that you would be able to make the repayments. You should have been asked about your income and your expenses, including rent/mortgage, council tax, utilities, food, transport, clothes, your other debts and everything else you spend money on.
Guarantor loans are large financial commitments. I would expect a lender to have asked for evidence of your income, such as payslips or bank statements and to have checked your credit record to see what other debts you had.
If you could only manage to make the loan repayments by borrowing elsewhere or getting behind with bills, then the loan was not affordable for you. You may have managed to repay the whole loan with difficulty – just making the payments doesn't prove the loan was affordable!
Some things the lender may have got wrong:
They may only have run a quick check on you because there was a guarantor if you got into difficulty. This isn't right – it doesn't matter how well off your guarantor is, the loan had to be affordable for you!
You may have given answers to questions about your expenditure that were too low, either because you were guessing or because you really wanted the loan and you said what you thought they wanted to hear. If the figures looked very low the lender should have checked further – you really only spend £40 a month on food? No transport costs at all? Never buy any clothes? If you have disability benefits, do you not have any extra expenses because of these?
You may not have mentioned some of your other debts – if what you told the lender didn't match with what they could see on your credit record, again they should have double checked this.
Were there a lot of recent applications for credit or recent debt problems on your credit record? Guarantor loans aren't aimed at people with good credit scores, but the lender should still have taken account of recent new problems.
If you were topping up an existing loan, the lender should have run another set of checks to make sure this was affordable. They should also have taken into account if you hadn't made the previous loan repayments to them on time.
What would a "fair solution" be?
Assuming the lender or the Ombudsman decides the loan wasn't affordable, what happens depends if the loan has been repaid or not.
If the loan has been repaid, then any interest paid should be refunded to you (or to the guarantor if they had to make some of the payments).
If the loan is still outstanding, then interest should be removed from the balance that is owing, so you only repay what you borrowed. And the lender should agree to accept an affordable monthly payment from you to pay this off, not go after the guarantor.
If the loan is already being paid by the guarantor, the interest should be removed from the balance owing.
Will complaining affect your guarantor?
The complaint itself will not affect your guarantor – they shouldn't even be told that you have complained.
However, if you stop paying the loan when you make a complaint, the lender may decide to get your guarantor to pay it. So if you don't want this to happen, you have to somehow carry on making the payments.
If you can't afford to carry on paying and you don't want to hurt your guarantor, this is a very difficult situation. I suggest you should talk to a debt adviser about all your options. Here making an affordability complaint isn't going to make your position any worse, but it isn't an immediate escape from your problem. If you do win the complaint that will of course help, but this could take many months as your case may well have to go to the Ombudsman (see below).
One thing to think about is whether your guarantor also had a good reason to complain – see Complaining if you are a guarantor for details. If they win a complaint, they may be removed as a guarantor, which would take a lot of pressure off you.
If you have other high-cost debt such as payday loans, then getting refund for these could provide you with some money to help pay the guarantor loan.
How to complain
It's best to complain to the lender by email – here is a list of their email addresses. I suggest SUBJECT ACCESS REQUEST AND COMPLAINT BY BORROWER as the email title. Here is a template you may find helpful.
These cases are very individual – no one will include everything in this template, just delete what doesn't apply to you and if there is anything else you think matters, add that!
You gave me a loan of [£2,000] in [August 2016].
Only put this in if it applies to you: 
I took a top up of [£700] in [September 2017]
Add  a reference number for the loan or give some other details such as your date of birth and your address when you took the loan out. 
Please send me a copy of all the personal information that you have about me, including but not limited to all credit record checks, a copy of my loan application(s) and recordings of all phone calls from me. You have 30 days to reply to this Subject Access Request.
I am also making an affordability complaint. This loan was unaffordable for me and that you should have realised this if you had checked properly before giving me the loan.
Delete or change any of the following so they are accurate for you:
[You would have seen from my credit record that I had recently missed payments/defaults/was in a debt management plan/was in an IVA showing that I was in financial difficulty.]
[You did not ask me about my expenses in enough detail.]
[I was on a low income/My only income was my pension./My only income was from benefits.]
[I have health problems and get ESA/PIP/DLA but you did not ask me if I had any expenses to do with this.]
[You did not ask me for proof of my income or expenses.]
[When I topped up the loan, you did not ask me if my circumstances had changed/you ignore the fact that I had made several payments late to you, showing that I was in difficulty/ you should have seen from my credit record that my financial situation had got worse.]
Add in any extra points that you wish to make.
I am asking you to remove the interest from the remaining balance so I only have to repay what I borrowed and to allow me to reduce my monthly payments to an affordable amount
If the loan has been repaid change that to [refund me the interest that I have paid plus 8% statutory interest.]
I understand that you have 8 weeks to respond to my affordability complaint before I send it to the Financial Ombudsman. Please note that I require my SAR information that I have requested urgently and the 8 week timescale does not apply to that.
Copies of personal information (DSARs) are often sent out by post, so if you have moved, make sure the lender has your new address.
If you would like some help with this, then go to your local Citizens Advice. Citizens Advice can also help you to draw up an Income & Expenditure statement to be included with your complaint showing how unaffordable the loan is.
If the lender rejects your complaint
Don't be surprised or too disappointed if Amigo or any other lender says No, the loan was affordable. There haven't been many affordability complaints about guarantor loans, so the lender may just be hoping you will give in.
If the lender says No, or you haven't had a reply 8 weeks after sending your complaint, you can send your case to the Financial Ombudsman. This doesn't cost anything.
If you aren't sure if you should send your complaint to the Ombudsman, you can ask it in the comments below this article.
You can simply send a copy of the complaint you sent the lender, but if you disagree with anything the lender said in their rejection to you, then menation that as well.
If you have been sent a copy of your personal information, work through that and note anything in there that the lender seems to have ignored in approving your loan, such as indications that your income was lower, your expenses or debts were higher than your application suggested. It may take a while to get your personal information – in that case send the case to the Ombudsman immediately and you can later send an extra note to be added to your case file.
You don't need a solicitor to help you do this. You don't have to quote laws or regulations.
If you are interested, here are some regulator rules that are relevant to guarantor complaints:
(1) Financial Conduct Authority: CONC 5.2.3, 5.2.4, 5.2.5

(2) Irresponsible Lending Guidance, see section 4.3
but you don't need to mention these. It's best to keep your complaint in plain English. The ombudsman just wants you to say what happened to you and why you feel it is unfair.
If you want help with a complaint to the Ombudsman, Citizens Advice can help.
---
More Debt Camel articles: