Guarantor loans are very expensive. Often the lender didn't check properly that you will be able to manage the loan repayments without having to borrow more.
If proper checks would have shown that you couldn't afford the repayments, complain! There is a template letter in this article to help you.
You can get an existing loan reduced so you only repay the amount you borrowed, or get a refund if your loans have been repaid
Amigo is now agreeing with many complaints. If your complaint is rejected you can send the case to the Financial Ombudsman (FOS).
If you are not the borrower but the guarantor, read Complaining if you are a guarantor which has a different template letter to use, as the points a guarantor can make are different.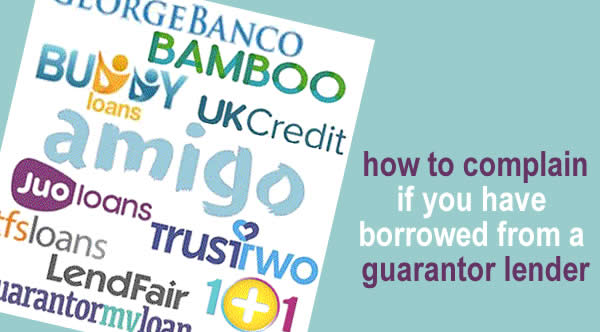 What is an affordability complaint?
Guarantor lenders should have checked the loan was affordable for you before giving you the money.
A loan is not affordable if paying it left you so short of money you had to top up the loan, or borrow more from another lender or get behind with bills.
If this happened to you, you can make an affordability complaint.
You can complain if you are still paying the loan or if the loan has been repaid.
If you win your affordability complaint:
interest is removed from a loan you still owe, so you only repay what you borrowed;
your guarantor is released from the loan; and
you can arrange to pay the remaining balance at a reduced rate.
When your loans have already been repaid, you get a refund of the interest you paid.
What should the lender have checked?
Before agreeing to lend, the lender should have made sure you were likely to be able to make the repayments for the whole length of the loan.
You should have been asked about your income and your expenses.
Guarantor loans are large financial commitments. So I would expect a lender to have asked for evidence of your income, to have checked your credit record, and to have verified your expenses.
Just making the payments doesn't prove the loan was affordable!
You may have been repaying with difficulty, taking out other loans, because you didn't want your guarantor to be affected.
Some things a lender may have got wrong:
It doesn't matter how well off your guarantor is, the loan had to be affordable for you!
You may have given answers to questions about your expenditure that were too low, because you were guessing or desperate. If the figures looked low the lender should have verified them.
You may not have mentioned some debts. If this didn't match your credit record, the lender should have double-checked this.
If you were self-employed or had overtime that varied, the lender should have considered at this.
Were there recent applications for credit or recent problems on your credit record? The lender should have been careful if your position was getting worse.
When you top up a loan, the lender should check the new larger loan is affordable. If the current loan was causing you problems or your finances had got worse you shouldn't have been given a larger loan.
If you feel there was something else unfair about your case, add that into your complaint as well!
What would a "fair solution" be?
If the lender or the Ombudsman decides the loan wasn't affordable, this is what happens:
The loan has been repaid

, then any interest you paid should be refunded to you.

The loan is still outstanding

, then interest should be removed from the balance that is owing, so you only repay what you borrowed. Your guarantor should be released from the loan. The lender should accept an affordable monthly payment from you to repay the rest.

Any payments made by the guarantor

are refunded to the guarantor, not to you.
Will a complaint affect your guarantor?
Complaining won't affect your guarantor if you carry on making the payments. The guarantor should not be told you have complained.
But if you stop paying the loan when you make a complaint, the lender may decide to get your guarantor to pay it.
If you don't want this to happen, you have to somehow carry on making the payments even though it's hard.
If you can't afford to carry on paying and you don't want to hurt your guarantor, this is a very difficult situation. I suggest you should talk to a debt adviser about your options.
Making an affordability complaint won't make your position any worse, but it isn't an immediate escape from your problem.
Think about whether your guarantor also had a good reason to complain – see Complaining if you are a guarantor for details. If they win a complaint, they will be removed as a guarantor, which would take a lot of pressure off you.
How to complain to the lender
A template complaint to use
It's best to complain to by email – here is a list of lender's email addresses.
I suggest SUBJECT ACCESS REQUEST AND COMPLAINT BY BORROWER as the email title. Here is a template you may find helpful.
Change this so it describes what happened to you. No one will use everything in this template, delete what doesn't apply to you.
You gave me a loan of [£2,000] in [August 2017].
Only put this in if it applies to you: 
I took a top up of [£700] in [March 2018]
Add a reference number for the loan or give some other details such as your date of birth and your address when you took the loan out. 
Please send me a copy of all the personal information that you have about me, including but not limited to all credit record checks, a copy of my loan application(s) and recordings of all phone calls from me. You have 30 days to reply to this Subject Access Request.
I am making an affordability complaint. This loan was/These loans were unaffordable for me and you would have realised this if you had checked properly before giving me the loan(s).
Delete or change any of the following so they are right for you:
[You would have seen from my credit record that I had recently missed payments/had defaults/was in a debt management plan/was in an IVA.]
[I was on a low income/My only income was my pension/benefits.]
[You did not ask me for proof of my income or expenses and you did not ask about my expenses in detail.]
[I have health problems and get ESA/PIP/DLA but you did not ask me if I had any extra expenses because of this.]
[I had a gambling problem which you would have seen if you had looked at my bank statements.]
If you topped up the original loan: When I topped up the loan you should have seen from my credit record that my financial situation had got worse. [delete if not relevant: You ignored the fact that I had made several payments late to you]
If you still owe money:[I am asking you to remove the interest from the balance so I only have to repay what I borrowed, release my guarantor and allow me to make lower monthly payments.]
If the loan has been repaid change that to [refund me the interest that I have paid plus 8% statutory interest.]
If you don't want your guarantor to be told: [I want to carry on making the normal monthly payments because I do not want my guarantor to be affected in any way by my complaint.]
I understand that you have 8 weeks to respond to my affordability complaint before I send it to the Financial Ombudsman.
If you would like some help with this, then go to your local Citizens Advice. Citizens Advice can also help you to draw up an Income & Expenditure statement to be included with your complaint showing how unaffordable the loan is.
Also send bank statements!
It's good if you can attach bank statements to your complaint.  Send three months of statements before each loan or top-up.  Some lenders such as Amigo often ask for bank statements, so it speeds things up if you send them at the start.
Don't worry if there is gambling showing on the statements – that helps your case!
Don't delay starting a complaint if you are trying to get your bank statements. You can always add them later. But now is a good time to get the statements as they help a lot if your case has to go to the Ombudsman.
What to do with your personal information (SAR) when you are sent it
Copies of personal information (SARs) are often sent out by post, so if you have moved, make sure the lender has your new address. You should get the information within 30 days. It is often sent on a CD with a password.
This information is not the lender's response to your complaint. Most lenders will send that separate from the SAR, usually a few weeks later.
You don't need to do anything with the SAR, just keep it safe. You have asked for it now so that you have the details in case the lender rejects your complaint or makes a poor offer so your complaint has to go to the Ombudsman.
Taking a complaint to the Ombudsman
If the lender rejects your complaint, go to the Ombudsman
Don't be surprised if a lender says No, the loan was affordable or  The regulator doesn't say we have to check your bank statements or We based our decision to lend on your application which was inaccurate.
Lenders seem to reject many complaints and hope you give up!
If the lender says No, or you haven't had a reply 8 weeks after sending your complaint, send your case to the Financial Ombudsman (FOS).
This is free to do and easy – you don't need a solicitor to help. You don't have to quote laws or regulations. Just use plain English to say what happened to you and why you feel it is unfair. If you aren't sure what to do, ask in the comments below this article.
You can just send FOS the complaint you sent the lender. If you disagree with anything the lender said in their reply, mention that as well.
If you want to add more details, read How Subject Access Request information can help an affordability complaint. But you don't have to do this – you can keep your FOS complaint short if you want.
Don't delay in sending a case to FOS o it has to go within 6 months. And while you have an "open" complaint, with the lender or at FOS, the lender cannot start court action.
If only some loans are refunded, think if this is fair
Sometimes a lender will agree that the last loan is unaffordable and remove the interest. Which is good news, but should it be better?
If the first two loans were small and the next two loans were much larger, you may think this is a fair result. Or if the first loans were a long while ago when you didn't have big financial problems.
But if the earlier loans caused you a lot of difficulty and led to you having to take more top ups, then you can send your complaint to FOS and say you think the earlier loans too should be refunded.
Are you likely to win your Ombudsman complaint?
From May 2019, a lot of guarantor loan complaints are being upheld at FOS.
Not everyone who complains will win their case, but these recent FOS decisions are good news! Guarantor loans are large and people are winning their case if they only had one loan.
One Ombudsman decision against Amigo went into a lot of detail so I have summarised it here:  Ombudsman – Amigo did not check properly that a borrower could afford the loan.
Only a small number of Ombudsman decisions are published, most are settled at the earlier "adjudicator" stage. Here is my summary of some adjudicator decisions this summer: Guarantor loans – more refunds being paid!
Cases are also being won against other guarantor lenders, see this one as an example: UK Credit.
It is much simpler to win a case at FOS than a court case. If Amigo or any other lender has already started a court case against you, Citizens Advice can help you get the court case "stayed" (that's legal jargon for put on hold) while you take an affordability complaint to the Ombudsman.
Complicated cases & help with guarantor loan complaints
If you want help with these complaints, Citizens Advice can help. Every Citizens Advice has access to the national Specialist Debt Advice Service if this isn't something an adviser has come across before.
If your situation is complicated a complaint is usually possible, but leave a comment below this article to discuss what to do or talk to Citizens Advice if:
Do not use a Claims Firm or a solicitor that is acting as a claims firm. There are two good reasons why you should avoid them:
they will probably do a very poor job. They are not experts. They won't put time into looking at your personal information. These complaints are VERY individual, not a simple checkbox exercise like PPI.
if you win a case but still owe a balance, this is usually just reduced. But the claims firm will expect you to pay their high percentage fee immediately even though you have not received any cash refund and still have the rest of the loan to pay.
---
More Debt Camel articles: