I have collected a selection of questions here are about things that may or may not be taken by the Official Receiver if you go bankrupt. 
I may not have mentioned your exact situation, but the answers here try explain how the Official Receiver makes decisions, so you can work out what is likely to happen.
The bankruptcy application says "It is very unlikely that items you need for your daily life (eg washing machine, sofa, refrigerator) will be sold".
The OR only wants to know if something is worth more than £500
On the bankruptcy application, you have to list things you own that are worth more than £500.
The two key points here are:
you have to own it. If it belongs to someone else, you are not the owner.
what something is worth now is what you could sell it for, so the second-hand value. It doesn't matter what it originally cost.
Most things in your house have very little second-hand value. The carpet in your bedroom may be fairly new and good quality but if you – or the official receiver – sold it, it would fetch almost nothing.
So if you are worried about a specific item, try to find a similar one for sale, for example on eBay.
Will I lose my lawnmower?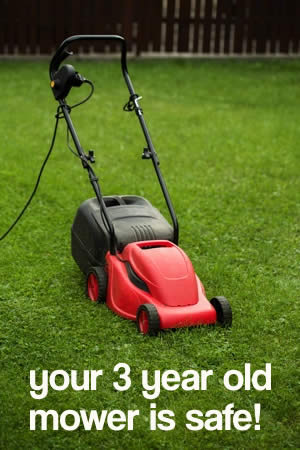 A lawnmower is a basic piece of domestic equipment – most people with gardens have one.
The Official Receiver's general approach is that you will be able to keep normal domestic objects providing they aren't worth more than reasonable replacements. This applies to clothes, furniture, carpets, bedding, electrical goods etc. Most people who go bankrupt do not lose ANY domestic possessions.
So your lawnmower is that it is almost certainly safe. The Official Receiver is unlikely to be interested in it unless it is very new and expensive.
If you have recently bought a splendid ride-on mower then it will be at risk, but a normal mower, no.
Can I keep my caravan?
The answer here is probably No.
It isn't essential, even if it lets you have a cheap holiday every year. You will need to list it on your bankruptcy application unless you are sure it is worth less than £500.
One option might be for someone to buy your caravan from the OR so that you can keep it. If you want to do this, list the caravan as one of your assets on your bankruptcy forms and include its second-hand value. Then at your interview with the OR after bankruptcy, explain that your parents would like to buy the caravan.
Do they take away children's games consoles?
No, they belong to your children, not you.
My brother's jet skis are in my garage
This isn't a problem – they don't belong to you, so they are not at risk. You don't need to list them on your bankruptcy application. No-one will come and inspect your house and contents.
Of course this does assume that your credit card statement doesn't show that you bought two jet skis last year. If it does, you are going to have to explain where they are…
Will the OR take husband's car which I drive?
Your marriage vows may have said "for richer, for poorer", but to the Official Receiver, you are two separate people with their own incomes, debts and possessions. So what matters is not who drives the car, but who owns it and who is going bankrupt.
If you are going bankrupt and he isn't, any things which belong to him are irrelevant. If you are the registered keeper of the car, then the OR will start off assuming that the car belongs to you. But being the registered keeper is not the same as being the owner, so if you can produce proof that your husband bought the car then it will not be at risk.
My car is worth more than £1,000
When you are valuing a car to put on your bankruptcy application, use Parker's guide. And unless it's pretty new, use "poor condition".
If you can show the OR that you need the car, for example to get to work, take the children to school etc, then the OR will agree that you can have a cheap car – under £1,000.
In practice if your car is worth a bit more than that you may not have a problem – the OR won't want to take a car they can only sell for £1,200 if they then have to give you £1,000 to buy another one as their costs wouldn't make this worth bothering with.
If the car in question isn't cheap, then your options are:
to have it sold and be given about £1,000 to buy a replacement, or
to buy it from the OR, see the question about caravans above. If the car is worth say £3,500 someone would only have to pay £2,500 to buy it as you would have been allowed to keep a car that was worth £1,000.
If my car is included in bankruptcy can I sell it to a friend to keep it
Yes, see the question about caravans above. It's best to wait until after you have gone bankrupt to do this. If the OR agrees that you need the car, then your friend can buy the car from the OR for £1,000 less than a fair price.
If the OR doesn't agree that you need a car then your friend can still buy it for the full price. However you have to be careful here because if the OR doesn't accept that you need one, then you won't be able to include car costs (road tax, insurance, petrol etc) in your expenses.
You can still pay for these things – the OR doesn't check up what you spend money on – but if you have an IPA set, then you may not have enough money left to be able to afford them.
Will I lose a motability car?
No, you don't own this car, it's just leased so it isn't an asset of yours. The OR will have no interest in it. Don't list it on your bankruptcy application.
Will I lose my wedding ring and engagement ring?
The OR does not want your wedding ring unless it is very unusual and very expensive.
Engagement rings… well it does depend a bit on how much it is worth. But second-hand jewellery is often worth a lot less than you think…
You are not expected to list your engagement ring on your bankruptcy application form. You won't be asked by the OR why it isn't there or how much it is worth. Does that give you a clue?
If I'm bankrupt do they take my shares?
Yes, you should expect to lose all financial assets such as savings, shares and bonds. You need to list these shares as assets. Publicly traded shares will be sold by the OR. If you have shares in a private company, it can be difficult to value these. Talk to Business Debtline about this problem. If the holding is significant and you think they are valuable, it might be better to look at an IVA instead.
Can they find out that I have premium bonds?
Yes, very easily, your name is on the National Savings & Investments database, which belongs to the government!
This is a very foolish thing to try to conceal, list them on your bankruptcy application. Or sell them and use the money to pay your bankruptcy fees!
Don't give things away
If you have read this article and are still worried the OR will take something of yours, you can't get round this problem by giving it away. The bankruptcy application has a section where you are asked if you have given away or sold things for less than their value.
Those jet skis that you bought last year… you can't say they aren't yours because you gave them to your brother as a present.
If you give away or sell things to relatives or friends for less than they are worth before you go bankrupt, the OR has wide powers to demand that they are returned and you may also be facing a Bankruptcy Restrictions Order.
More Debt Camel articles: