In March 2019, the FCA has published  Our work on motor finance – final findings. The FCA regulates the providers of car finance and their review began nearly two years before and has been long-awaited.
News reporting has seized on the FCA's findings that commission structures give dealers an incentive to charge higher interest rates.
But here I am interested in the FCA's findings on affordability where the report concluded:
We are not satisfied that all lenders we surveyed were complying with FCA rules on assessing creditworthiness, including affordability. Some seemed to focus unduly on credit risk (to the lender) rather than affordability (for the borrower).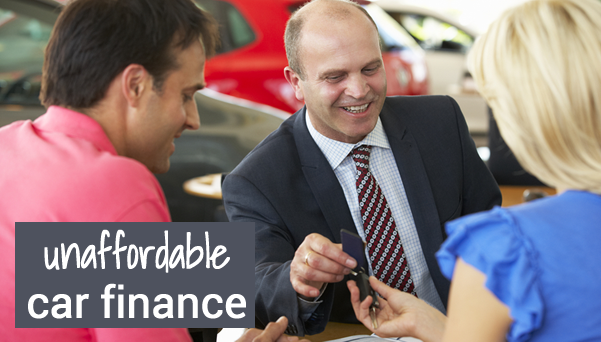 What is meant by "affordable"?
You might think that making all your car finance payments on time shows it is "affordable".
But the FCA and the Financial Ombudsman (FOS) have a different definition.
They say a loan is only affordable if you can make the repayments on time, without hardship and still meeting your other commitments.
That means you need to be able to pay all your other debts, your normal household bills and expenses as well as the new car loan payments.
So if you have made your car finance a top priority as you don't want the car to be repossessed, you may have increasing credit card balances, you may have taken out loans and you may have got behind with bills. That means even though your car loan is up to date, it is not "affordable".
Affordability checks before you take the loan
A lender has to check that you can afford the car finance. This may mean checking not just your credit record, but also your income and expenses as well.
These checks have to be "proportionate".  If you have got a great credit record and a good income and are only borrowing a small amount, the lender isn't going to have to look in great detail to be confident you can afford it.
But with a poor credit record, or where the repayments will be a large proportion of your income, better checks are needed. The FCA rules don't say exactly what has to be done, but a lender often can't rely on what the customer says their income and expenses are. Other ways to check include:
your credit record shows what you are paying to other debts each month;
there are national average figures for some expenses, so your estimate that you spend £60 a month on food or nothing on clothes isn't realistic;
the lender could look at payslips or bank statements to be sure.
These checks are often inadequate
This BBC story 'Car payments are ruining our lives' has an example of where a 23 year old student with a part-time job was sold a 21k Audi on finance, with apparently no affordability checks at all.
But it's probably more common that a quick and inadequate check was done.
It's time for the car industry to do better, even if it's to save customers from themselves.
So what are your practical options if your current car finance is hard or impossible to pay?
Should you make an affordabilty complaint?
The car finance company may have done a good assessment of affordability. At the start, you were able to manage the loan repayments. Then something went – perhaps you had your hours cut, or you split up with your partner. Here it's not the lender's fault that the car finance is now unaffordable.
But you may think that the lender should have seen that the loan was too expensive if they had looked properly at your situation.
In this case, you can make an affordability complaint to the lender. You should ask for:
a refund of the interest on the finance. If you are still repaying the loan, what happens is that the interest is removed from the balance, so you only repay what you borrowed;
for the remaining balance to be repaid at an affordable rate; and
for any negative marks to be removed from your credit record.
The affordability rules for car finance are the same as for other loans. So you can follow the approach and use the template letter for an affordability complaint in this article: How to ask for a refund from large, bad credit loans.
Few affordability complaints have been made about car finance, so there is no indication of what the success rate is likely to be for these complaints. You should expect the lender to reject it and have to send it to the Financial Ombudsman – the process is all described in the above link.
These complaints may take many months. You will have to keep up the loan repayments during this time, or your car may be repossessed. I suggest you take some debt advice – talk to National Debtline who can help you look at your options for getting through this period.
Two alternatives to making an affordability complaint
1. Terminate your contract and hand back the car
HP and PCP contracts give you the right to terminate them, hand back the car and not owe any more money if you have paid over half the total contract value. This is often called VTing a car – that stands for Voluntary Termination.
Read How to VT your car which explains how terminating an HP or PCP car finance contract works and what you need to do.
If you don't need to keep the car, you should definitely consider terminating the contract;
If you need a car but after taking debt advice, you can't see how you can manage the repayments you may have no better alternative than termination.
You can still make an affordability complaint after VTing your car. But these complaints can take a long while to go through so if you cannot afford to make the payments you need to look at your options for this.
2. Apply to the court for a Time Order
National Debtline has a good factsheet on Time Orders. It says:
You may be able to use a time order to reschedule the payments on your agreement.  A time order and an order to change the interest rate may be a good option if you have fallen behind with your payments.  You may be able to stop the creditor repossessing your goods.
The factsheet mentions the Unfair Relationship test. If the lender did not make adequate affordability checks, that can be seen as resulting in an Unfair Relationship so you could include points about this in your application.
You can apply for a time order if you have been sent an arrears notice, a default notice or the lender has already started repossession proceedings. You can't apply if you currently up to date with payments.
I am not suggesting that a Time Order is an easy option. They are unusual. You have to start a court case and you may well have to argue it before a district judge who has never seen an application for a Time Order before. If you lose, extra costs may be added to your debt.
One of the reasons the Financial Ombudsman was set up was to provide a more informal way of resolving complaints than going to court.
National Debtline suggests that you may want to take advice from a local advice agency if you want to go for a Time Order, for example a Law Centre or a Citizens Advice. The Legal Beagle forum also provides moral support for people with court cases.
Choosing between these options
It can be complicated to decide between making an affordability complaint, VTing the car and applying for a Time Order.
Sometimes one or more of the options can simply be ruled out:
you can't VT the car if you have been served with a Default Notice which has expired;
you can't apply for a Time Order if you are up to date with payments;
if the finance was originally affordable but your circumstances have changed, an affordability complaint will not succeed;
when you want to keep the car, VTing it is not a good option unless you have no other alternative.
You can make an affordabilty complaint if the car finance is still running, if it has completed, if you VT the car or voluntarily surrender it, or if it has been repossessed.
The rest of your finances matter as well. Car finance payments are a priority debt, so setting up a debt management plan for your other debts may help.
Talk to National Debtline about your car finance and the rest of your situation. They will help you decide what to do.
---