In November 2019, many people hoping for a payday loan refund from Sunny were watching for the third-quarter results from Elevate, Sunny's US parent.
Would Elevate decide to close Sunny, so they wouldn't get their refunds?
In late October QuickQuid had gone into administration after its American parent announced it was exiting the UK. That left Lending Stream, Myjar and Sunny as the largest payday lenders in Britain.
But on 4 November, Elevate's results were fine. Elevate's CEO said:
"In the UK, we continue to scale back growth due to the lack of regulatory clarity. In the interim, our business remains profitable and we see expanded, long-term potential".
This future potential comes from "so little supply" and Sunny's lower customer acquisition cost due to "diminished competition". In other words, Sunny expects to be able to get more business and make higher profits with QuickQuid gone.
But why is Sunny unclear about UK regulation?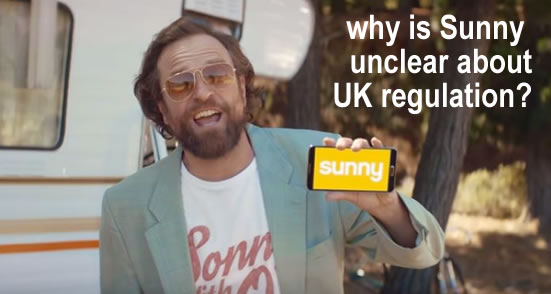 Background – payday loan regulation
Before April 2014, payday lenders were regulated by the Office of Fair Trading (OFT). The OFT issued Irresponsible Lending Guidance which said that:
"all assessments of affordability should involve a consideration of the potential for the credit commitment to adversely impact on the borrower's financial situation, taking account of information that the creditor is aware of at the time the credit is granted."
a loan is able to be repaid "in a sustainable manner" if it can be repaid "without undue difficulty – in particular without incurring or increasing problem indebtedness".
After the FCA became the regulator in 2014, its CONC rules on affordability took the same approach:
CONC 5.2A.12 The firm must consider the customer's ability to make repayments under the agreement:
… (3) without the customer having to borrow to meet the repayments;
(4) without failing to make any other payment the customer has a contractual or statutory obligation to make; and
(5) without the repayments having a significant adverse impact on the customer's financial situation.
What checks on affordablity have to be done?
The FCA doesn't spell out exactly what checks a lender has to make that a loan is affordable. But it talks about:
how much information is sufficient for the purposes of the creditworthiness assessment, what information it is appropriate and proportionate to obtain and assess, and whether and how the accuracy of the information should be verified.
FOS has published several "Key Decisions" about payday lending affordability. These are decisions which FOS thinks contain points which will be applicable to other similar cases and they cover the regulations in detail.
Here is what the ombudsman decided in one case about when a lender should have to check in detail that a loan is affordable:
I think that a reasonable and proportionate check ought generally to have been more thorough:
the lower a customer's income (reflecting that it could be more difficult to repay a given loan amount from a lower level of income);
the higher the amount due to be repaid (reflecting that it could be more difficult to meet a higher repayment from a particular level of income); and
the greater the number and frequency of loans, and the longer the period of time during which a customer has been given loans (reflecting the risk that ongoing use of these loans may signal that the borrowing had become, or was becoming, unsustainable).
Similar words are commonly used in other FOS decisions about affordability complaints, not just for payday lending.
FOS's emphasis on the number of loans and the length of time someone is borrowing from a lender was mirrored in the FCA's letter to high cost lenders in March this year. This identified "a high volume of relending, which may be symptomatic of unsustainable lending patterns" as a key driver of consumer harm.
Typical FOS decisions on Sunny complaints
Sunny's business model seems to involve giving small loans but a lot of them, often letting a borrower have several at once.
People who think their Sunny loans are unaffordable – they could only repay them by borrowing again – are making an affordability complaint and asking for a refund of the interest they paid. This is explained in detail in How to ask for a payday loan refund which has a free template letter you can use.
When FOS considers an affordability complaint about a lot of small payday loans, it looks at whether the loans were unaffordable for the borrower and when the lender should have realised that the borrower was becoming dependent on these loans.
So the typical FOS decision is usually to refund all loans after the first few. And this is exactly what FOS decisions on Sunny cases are showing.
Here are some comments left by Debt Camel readers over the last few months:
Adjudicator has suggested that Sunny pay all interest on loans 6-14.
Adjudicator rules in my favour for loans 5-42 with sunny. They have already agreed to pay me £2800 for loan 37-42.
The adjudicator has upheld my complaint against sunny for loans 5-15.
My adjudicator ruled in my favour … 54 loans out of 58.
Adjudicator said sunny should refund loans 6-122. [That wasn't a typo, I checked with the reader and she really did have 122 Sunny loans.]
Adjudicator has come back today and said he thinks sunny should refund me for loans 3-26.
Adjudicator recommends Sunny refund loans 5-35.
Adjudicator has emailed me and has agreed loans 4-31 with Sunny should not have been lent.
The adjudicator upheld my complaint with Sunny for loans 7-37.
The adjudicator has said in the email that [Sunny's offer to refund loan 46 to 53] was unfair and that Sunny should refund me from loan 5 to loan 53.
No-one has said that their FOS adjudicator agreed with Sunny that only the later loans in a long series should be refunded.
That looks pretty consistent to me!
Sunny isn't learning from FOS decisions
The FCA's DISP rules say that a lender should learn from FOS decisions and adopt that approach in how it responds to complaints. But there is no sign of Sunny doing this.
Here are some examples of poor offers or rejections from Sunny on cases that sound very strong:
49 loans with them over 3 years continuously, offered me 37-49 (£2,100).
I had 30 loans from them between 2017-2019. As a goodwill gesture they've offered to write off my remaining balance of around £70.
The complaint has been rejected. I thought I had a strong case I carried out 70 loans with no breaks in borrowing. Paying back a total of £30,052.
And Sunny seems to be rejecting far more adjudicator decisions and forcing the case to go to an ombudsman than is reasonable.
So what isn't clear?
What the Financial Conduct Authority (FCA) is saying and the Financial Ombudsman (FOS) decisions on Sunny complaints seem both clear and consistent.
I am not surprised that Sunny doesn't like these decisions. But I think it's hard to say they are unclear.
I am sure FOS and the FCA would be happy to have a meeting with Sunny to explain, once again, how FOS is deciding affordability complaints.
Sunny basically has three options. It can accept the FOS approach and apply it to future complaints. It can decide to go to court and ask for a judicial review. Or it can give up and go out of business.
To carry on making absurdly low offers or rejections to customers with a lot of loans is not an option.
UPDATE – comments on this page are now closed.
For the latest news on Sunny, read  500,000 Sunny customers owed refunds will get little or nothing and leave your comments there.
---