There are several "bad credit" cards in Britain, including Vanquis, Aqua, and Luma.  The cards are aimed at people who get turned down for a normal credit card. They promise access to credit you can't otherwise get, but many people want them not because they want to borrow but to help them improve their credit score.
The credit card regulator published research showing that a quarter of these cards that are taken out are in severe or serious arrears just a year later. So that's a very bad result for a quarter of their users.
That statistic also shows how much the other users are paying for their credit. The card companies are managing to make nice profits overall despite that incredibly high failure rate – the money they are making from their other customers must be huge.
Here is what one reader said about his Vanquis card:
it's a card that puts you more and more in debt rather than build your credit rating.
Why do so many people get into trouble with these cards and what can you do to avoid this happening to you?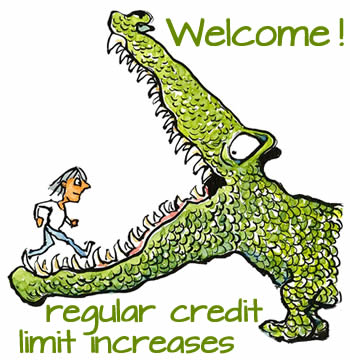 Trap 1 – high-interest rates
The APR% that is shown on their websites and ads may not be the rate you are offered. 39% may sound fine when you apply, but if you are actually offered 49% or 59% stop and think twice.
Unless you are sure you will repay the balance in full every month, a high-interest rate is a disaster.
Trap 2 – minimum payments that go on forever
"Forever" is an exaggeration, but if you only make the minimum payments it could take 15  or  20 years to pay it all off. This is a problem with all credit cards, but it's much worse with bad credit cards because their high interest adds up to a fortune!
Trap 3 – credit limit increases
The cards often promise this, for example, Vanquis says you could get an increase every five months. This may sound like an advantage, not a problem! But they increase your credit limit without asking you, and this makes it very easy for you to run increasing large balances.
This is of course exactly what the cards want – the larger your balance, the more interest they are earning. It's hard to get out of this trap, as most of your monthly payment goes in interest.
Trap 4 – clever ways to get more money out of you
For many years Vanquis pushed a product called Repayment Option Plan which promises payment holidays, account freezes and credit score protection. This may sound great… and paying 1.29% for this sounds cheap. However that is per month and it is just added to your credit card purchases, so unless you repay your balance in full each month you then paying Vanquis's high interest on it.
And what will you actually gain? Your credit rating is pretty rubbish or you wouldn't have to use one of these cards, it's not worth paying a fortune to protect. And the kind suggestion that they will freeze interest for two years if you get into difficulties – well even payday lenders do that! The FCA says that all lenders have to consider freezing interest if people are in trouble, no need to buy the ROP for this.
Update: in February 2018 the regulator, the FCA, stepped in and is making Vanquis refund the extra interest people have been charged. If you have had ROP on your card, you will be getting a refund automatically. That's the good news, but the bad news is that Vanquis ROP refunds are smaller than they should be so when you get one, complain! And don't forget to cancel the ROP.
Ways to avoid these traps
There are two different approaches to avoid these problems, depending on why you want the card in the first place.
You just want to improve your credit score
You may have had a lot of defaults or problems that are now repaid or under control so you want to start getting some "good marks" on your credit record. I've looked at the details of how to repair your credit record after bankruptcy , after an IVA, and after a DRO. A bad credit card is very often the first sort of credit you can be accepted for.
Here you don't really need to borrow, you just use the card for something small each month and pay it off in full every month – your credit score improves faster when you always clear the balance – so you start to get those essential "good marks" on your credit record.
If you repay it in full, the interest rate doesn't really matter, nor does the minimum payment trap.
You need to borrow
If you have to borrow, one of these cards is often better than logbook loans, guarantor loans or "buy weekly" stores. However look at your alternatives – you may find you can borrow much more cheaply from your local credit union.
Here the "repay in full every month" way to avoid the traps probably isn't going to work as you can't afford it. But a bad credit card doesn't have to be a disaster if you can stick to the following plan:
Repay as much as possible each month. Ignore the minimum payment amount, no matter how temptingly low. it's designed to keep you in debt permanently.
Ignore any credit increases – they are trying to suck you in deeper. Just keep repaying what you borrowed. When you get back to zero keep the card for an emergency.
Would getting two cards be better than one?
No! Just one card will give you the benefit you need, getting two cards would hurt your credit score for longer.
Are you good at resisting temptation?
If you want to make best use of these cards and not get sucked into paying a fortune in interest, you are going to have to be determined. Bad credit cards make a lot of money from people who started out with good intentions, but whose balance creeps up most months – don't let this be you!
A completely different approach?
If you only want the card to improve your credit score, not to actually borrow money on at all, then have a look at a new product called LOQBOX which aims to improve your credit score by you making regular savings. This won't suit everyone, but it's worth checking out!
---
More Debt Camel articles: