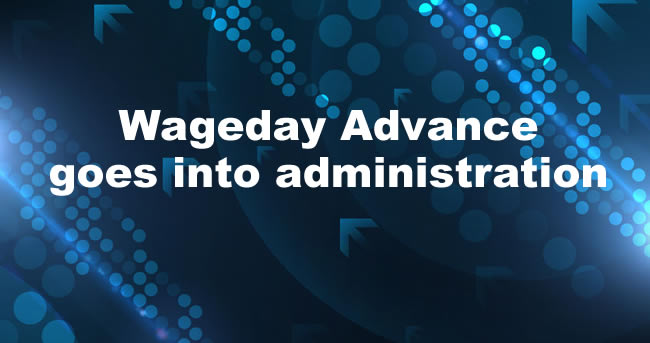 The FCA announced on 26 February 2019 that Curo Transatlantic Limited (CTL) enters administration with Pre-Pack Sale.
CTL owns two brands: Wageday Advance (WDA), a mid-size payday lender, and Juo Loans, a small guarantor loan brand. It also owned Speedy Cash, which ceased trading a while ago.
KPMG has been appointed as administrators. They have said:
CTL was subject to a significant number of consumer redress claims arising from its historic affordability, creditworthiness and responsible lending practices. Over time, and with the number of claims increasing, the financial and operational burden of resolving them became unsustainable.
KPMG has set up the following page CURO Transatlantic Limited – in Administration which has a link to FAQs.
The background to the administration
Wageday Advance has been under increasing pressure from customers asking for payday loan refunds for unaffordable lending;
Since autumn 2018, it has been delaying and prolonging responding to customer complaints. In January I wrote Wageday Advance – delaying complaints and in financial trouble? which looked at why WDA was getting so many complaints.
In its year-end results, CTL's parent company, the American subprime lender Curo, announced it had asked the FCA to agree to a Scheme of Arrangement which would cap its liabilities to pay refunds for unaffordable lending at c £18 million. See Wageday Advance proposes cutting the refunds it pays for details.
WDA had not been issuing loans for a week, with its website blaming technical problems.
The FCA has presumably rejected Curo's proposed Scheme of Arrangement. I think this was the right decision by the FCA. To allow an authorised firm to restrict paying redress for past problems but to carry on trading would set an unacceptable precedent and be unfair to Wageday Advance's competitors.
A "pre-pack" sale to Morses Club
The administrators have announced the sale of the CTL's brands, systems, call centre, and online lending capabilities to Shelby Finance for c £8.5 million. Shelby are a subsidiary of Morses Club, they currently trade as Dot Dot, a very small payday lender.
50,000 CTL customers, including all Juro customers, are being notified that their loans have been transferred to Shelby.
You can check if your account has been transferred by logging in here.
650,000 other CTL accounts – many of which will be historic, with no current lending – remain with CTL.
What about refunds?
The liability for refunds for previous unaffordable lending will remain with CTL. The administrators say:
The joint administrators will now work to realise the remaining assets of the company and to then distribute the available funds to creditors.
Customers with affordability complaints that are upheld by the administrators will now be unsecured creditors. How much money will be available for refunds will depend on the assets the administrators can sell in addition to the £8.5m from the sale to Shelby.
WDA will stop paying any refunds immediately, including those that have already been agreed.
All WDA complaints currently with the Financial Ombudsman are being returned to the administrators to settle – on 28 February FOS confirmed this.
A new method for calculating refunds
The administrators say in the FAQs that, before going into administration, WDA developed a new method of assessing complaints and calculating compensation.
This is not the approach WDA was using in its complaint handling before administration – it is a new method. I expect that it was developed to try to be in line with FOS decisions.
I guess there may be some tweaks to it but it sounds as though the administrators think they have got the tool they need. They say:
Further details of this methodology will be provided in due course, and the Joint Administrators will seek to agree a claim calculation methodology with CTL's creditors in the coming months.
Once the method is agreed, the administrators will apply it to people who have already made a complaint, people who complain now (see below) and probably to all other customers accounts who haven't yet complained. If you have already had an amount agreed, I don't know if the calculation will be applied to you – it may be the agreed amount will be used.
This will result in a list of the people who are the unsecured creditors owed compensation with an amount for that compensation. There won't be any appeal from this – you can't go to the Ombudsman.
After this, when the administrators have realised any assets, they will be able to divide the money that is left between the unsecured creditors. The administrators are saying that they expect you will get something but it will not be the full value of the compensation.
If you haven't yet complained
I think the administrators will contact people who they calculate are due some compensation. But you don't have to wait for this.  You can put in a very simple complaint now by email complaints@wagedayadvance.co.uk and say you were given unaffordable loans and you want to ask for a refund of interest.
There is no point in writing a lot as the administrators are just going to run your loan history through their calculation tool.
Current loans
Loans from WDA and Juo still legally exist. You still owe the money. The lender going into administration does not change this.
If the loan repayments are affordable for you – so you can make them without having to borrow any more money – you should continue to make them.
But first check your balance!
Provisional balance adjustments
If you can login to your account, you may see that the balance owing has been reduced.
The administrators say:
the Joint Administrators' have made provisional balance adjustments to reflect the estimated final position that they expect to reach, once they have been able to agree the approach with CTL's creditors.
So they are assuming the method for calculating the refunds is roughly correct and that it will be agreed. And they have already credited some accounts with the refund that has been assessed.
These are provisional adjustments as they aren't final until the methodology has been agreed.
If you have had a reduction, could you add a comment below saying how much?
Where the balance has been reduced to zero, there may be an extra amount of compensation that will refund that will you will later get a part of.
If there is still a balance left, you need to repay that amount. If you can't afford the normal repayments, you need to ask for an arrangement to pay this.
My verdict – assuming the method calculates a fair amount for compensation, this seems a very sensible approach by the administrators. I hope it means people are not going to be chased to repay outstanding balances when they are actually owed compensation.
Communications from the administrators
I will try to keep this updated over the next few months.
Email from the Administrators on 4 March
On 4 March KPMG sent an email about the conduct of the administration. I don't know who this has gone to – whether it is everyone that has complained or just the people WDA previously made an offer to.
A copy of this has been posted in the comment below by Tom on 5 March.
You don't need to take any action following this email but if you haven't got it, do check that it has not gone into your spam folder – otherwise you may miss later emails from the administrators which are more interesting!
It asks if you want to opt-out of some email communications. This won't affect your refund if you do opt-out, but you are not going to get tons of emails from the administrators so I suggest you stay opted-in.
last updated – 5 March 2019