UPDATE in September 2020, Aperture sold its 25,000 open IVAs to Jarvis.
See Major changes for thousands of customers with Aperture & Vanguard IVAs for details.
---
Aperture has told many debt advisers it will not take referrals for Individual Voluntary Arrangements after the end of June 2019.
The debt advice firms received an email saying:
I write to inform you that Aperture Debt Solutions LLP has recently taken the decision to suspend our client acquisition strategy in the IVA sector; as such, we will be unable to deal with your client referrals with effect from 1 July 2019.
Aperture will continue to manage the existing portfolio of clients already subject to an IVA and our services in that regard will not be disrupted in any way. We are happy to continue handling your case-specific enquiries in respect of those clients as they progress through their arrangements.
According to Insolvency Service figures, Aperture was the second largest IVA firm in 2018. There have been rumours that Aperture is closing to new business for a few months – these emails confirm this.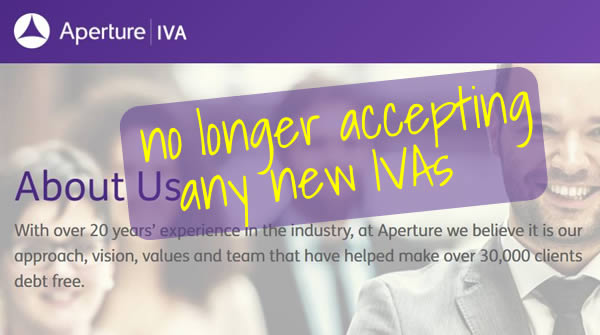 Current and previous clients
35,000 people have an IVA underway at Aperture. This should not affect you and you should carry on making monthly payments as usual.
My comment  – I hope Aperture will be improving its communications and customer service to these existing clients.
There have been persistent complaints about this, especially from customers who has set up an IVA with another firm and whose IVA was sold/transferred to Aperture. Customer emails are unanswered, IVAs reach their last payment with no communications, customers are later told there are arrears or that equity needs to be released, etc

Many previous Aperture customers have been upset at the extremely pushy letters they have been receiving. These say someone has to sign up with Aperture's expensive Claims Management Firm to enable claims to be made for PPI, payday loan and other mis-selling.
My comment: I hope this policy will now be reconsidered.
A problem for free-sector debt advisers?
Many local Citizens Advices and other free-sector face-to-face advisers used to refer clients to Aperture because Aperture could provide face-to-face support across the country. Other IVAs firms don't provide this because they are either small and local, or telephone-based.
StepChange has in-house Insolvency Practitioners who arrange IVAs for its clients, but it used to refer a small number of clients to Aperture who needed face-to-face support, were based in Northern Ireland or were self-employed.
All these debt advice organisations now have to find alternative arrangements. Many only see a small number of IVA cases. Conducting a "beauty parade" to find an alternative IVA firm will be time-consuming and expensive.
One way forward may be to use The Insolvency Panel which only takes referrals from free-sector advice agencies and then allocates them to an IVA firm on its approved list.
The bigger problem for anyone wanting an IVA
There is no published information that can help people choose between IVA firms. And anecdotally, there are significant differences between IVA firms.
If firms aren't all the same, you need to be able to select the best, or at least avoid the worst.
Review sites aren't helpful
Review sites are often full of enthusiastic people who have just had an IVA set up. This made-up example is typical:
"The whole process took around one month, excellent service from start to end, I was kept updated throughout. Jayne was understanding and non judgemental."
But an IVA lasts for five, six, seven or more years, not a month. A review from someone whose IVA has only just begun is largely worthless.
As I said in "What will happen at my IVA annual review?", many people find that after the warm, helpful team that sets up IVA, once it is underway you are dealing with the B team for customer service.
Failure rates are kept secret
Probably the most important factor for anyone to consider is the IVA failure rate at a firm.
More than a third of IVAs are now failing, but some firms say they have much lower rates than Insolvency Service average statistics. So other firms must have much higher rates.
How can someone avoid one of the firms with high failure rates when data is not published? I think the Insolvency Service should publish this data by firm.
---
Comments are now closed on this article. 
Please add your thoughts to the new 2020 article on Aperture's IVA's being sold to Jarvis.